Global Conversion
$5.00
This service will convert your Nokia Phone bought from China to Global Release.
Description
Currently we support following models:
– Nokia 3.1 Plus ROO
– Nokia 5 ND1
– Nokia X5 (Nokia 5.1 Plus) PDA
– Nokia 6 (2017) D1C
– [NEW] Nokia 6.1 PL2 (Android 10 only)
– Nokia X6 (Nokia 6.1 Plus) DRG
– Nokia X71 TAS
– Nokia 7 Plus B2N
– Nokia X7 (Nokia 8.1) PNX
– Nokia 8 Sirocco A1N
– Nokia 9 PureView AOP
– Sharp Aquos S2 SDM630 SS2
Following models are unsupported yet due to no global release available or unable to convert:
– Nokia 7 C1N
If you want me to do remote flashing, please do following procedure.
You must contact me on Telegram before paying.
You should use at least Windows Vista Service Pack 2 or newer (including Windows 7 Service Pack 1), and Windows 10 Version 1809 is strongly recommended.
If you're an user of macOS/Linux distro, please try it on virtual machine with Windows installed. You needn't to activate it actually.
1. Download NTool and install drivers
Download NTool 0.045 from following website:
https://support.ntool.info/getntool.php
To prevent from reverse engineering, this tool is protected by proprietary shell, so it will be marked as trojan by Windows Defender / MSE. Please close Real Time protection temporarily before downloading and extracting, and add it to whitelist on your Antivirus App.
If you don't trust it, please run it on your virtual machine without Addon (Like VMware Tools) installed.
Extract it and double-click setup.exe in Drivers directory.
You can skip driver installation if you've installed OST LA.
2. Pre-Test
Please click IDENTIFY and connect your powered off phone to PC.
If you can see output result like the picture below, then pre-testing succeed.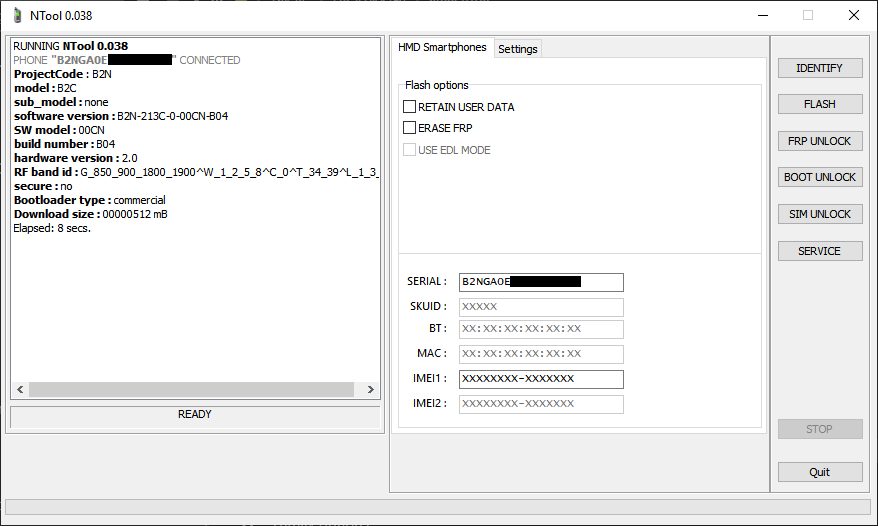 If you can only see "CONNECTION ERROR", please use another PC or do it on virtual machine.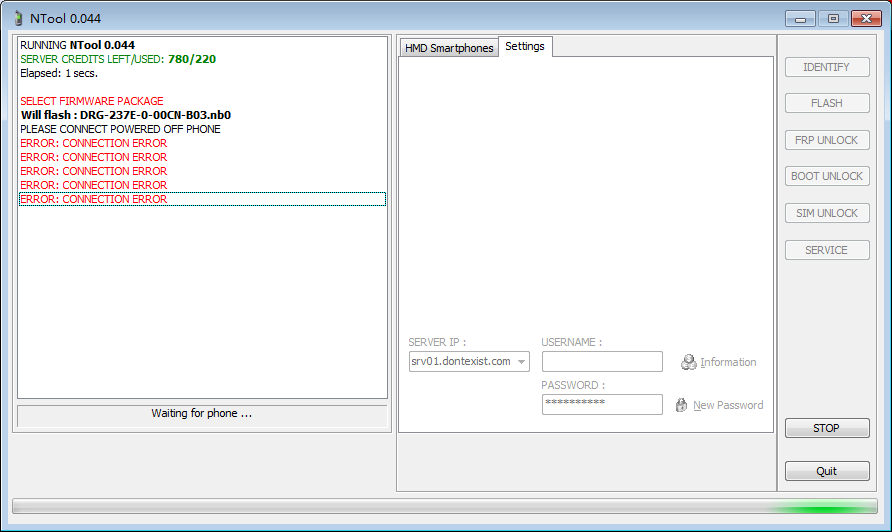 Please ensure the pre-test will pass before paying.
3. Install Remote Desktop App
We recommend AnyDesk or Sunlogin for remote desktop control.
Because TeamViewer GmbH cooperates with CJ Marketing that make the remote control experience terrible.
4. Download firmware
5. Start!
Pay and find me for the remote procedure when you're ready for everything mentioned above.
Please contact me in Telegram once you paid, and I'll start the procedure.
6. Bootloader Unlock? Pay again.
I hope you can feel the whole procedure worthwhile.