HMD Nokia Bootloader Unlock
$4.00
Description
From Sep 27, 2018, we don't process unlock request from Nokia 8 users.
If you're using Nokia 8, you can request unlock officially from here: https://www.nokia.com/en_int/phones/bootloader
告来自中国大陆的用户:你不应该在这里购买。请阅读这篇教程了解具体解锁流程细节:
(我们正在尝试部署支付宝付款)
港澳臺地區用戶將會收到中文的解鎖碼郵件。
We can also accept following payment methods:
– Bitcoin, and sorry about that because I'm not familiar with other crypto currency
比特币,很抱歉,我对其他加密货币不熟悉
– Any Steam Gift that has the same value to the service. In other words, you can buy the game that has the roughly same value and send it to me.
However, your region mustn't be locked or you can access China region.
等价 Steam 礼物,也就是要买等价的 Steam 游戏送给我。
然而你必须得是中国区或者是不锁区的高价区。
Visitors from Mainland China shouldn't buy unlock key from this website.
Visitors from India who can only use Paytm or UPI should buy unlock key from following link for ₹250 per device.
Buy Bootloader unlock key for Nokia Android smartphones (Qualcomm)
Hi there!
Let me introduce how do you pay for the unlock key.
This site is using Chinese WordPress, so you may need to translate here to English.
Before you request unlock key, please take a look to this guide:
https://hikaricalyx.com/2018/05/30/guide-how-to-unlock-bootloader-qualcomm-t3769930/
You need to tell me the IMEI and SN for calculating unlock key. And DO NOT post your phone's identify info in comment area.
First of all, please click "Add to cart".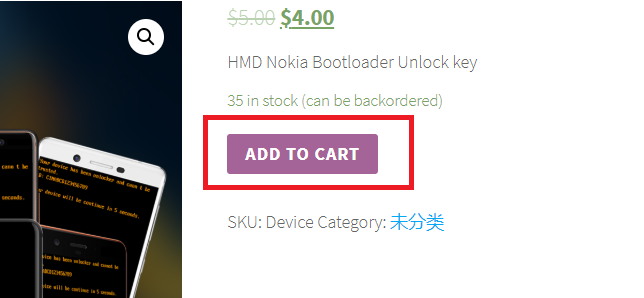 Then click "proceed to checkout"

Here's how you need to fill your required info.
In other information area, you must type your identify info as below. And you must type your real Email to receive your unlock key correctly. If you type wrong Email, I can't send you unlock key and I can't refund, please forgive about that. In that case, you must double check carefully, or send me Email immediately (My Email is given at the end of page), along with the order number starts from "HCT-". You can find it on your PayPal billing details.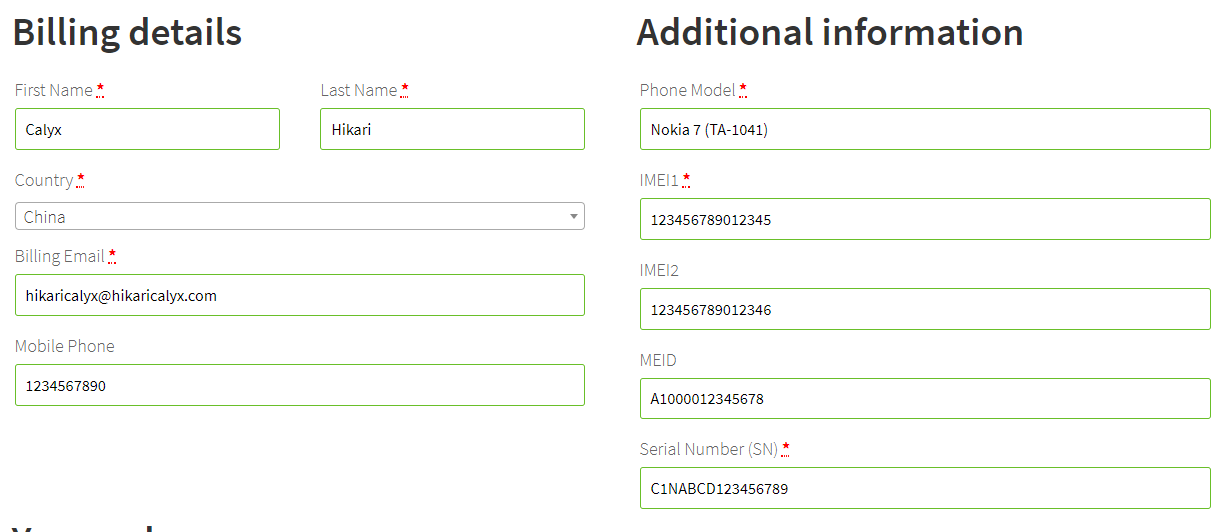 You can request unlock for following models:
Nokia 2, Nokia 5, Nokia 6 (2017), Nokia 6.1, Nokia X6, Nokia 7, Nokia 7 plus, Nokia 8, Sharp Aquos S2/C10, Sharp Aquos S3 mini/B10.
Nokia 2.1 (E2M), Nokia 7.1 (CTL) and Nokia 8 Sirocco are currently unsupported.
I'll send you unlock key within 12 hours normally.
Sorry that you can't request multiple unlock keys at once right now – I'll make it reavailable soon.