如果您需要阅读中文版本,请访问:https://zhuanlan.zhihu.com/p/62525265
Thanks for contacting Hikari Calyx Tech for this service!
Since the unlock method is a bit complicated, you needn't to know the overall procedure.
However please allow me to tell you the limitation you'll face after you unlocked, please make sure you've read them carefully.
I. Unlock warning will appear once unlocked.
Unlock warning will displayed as the picture shown below.
I have a special method to hide the unlock warning, but you'll lose the ability of installing later OS updates.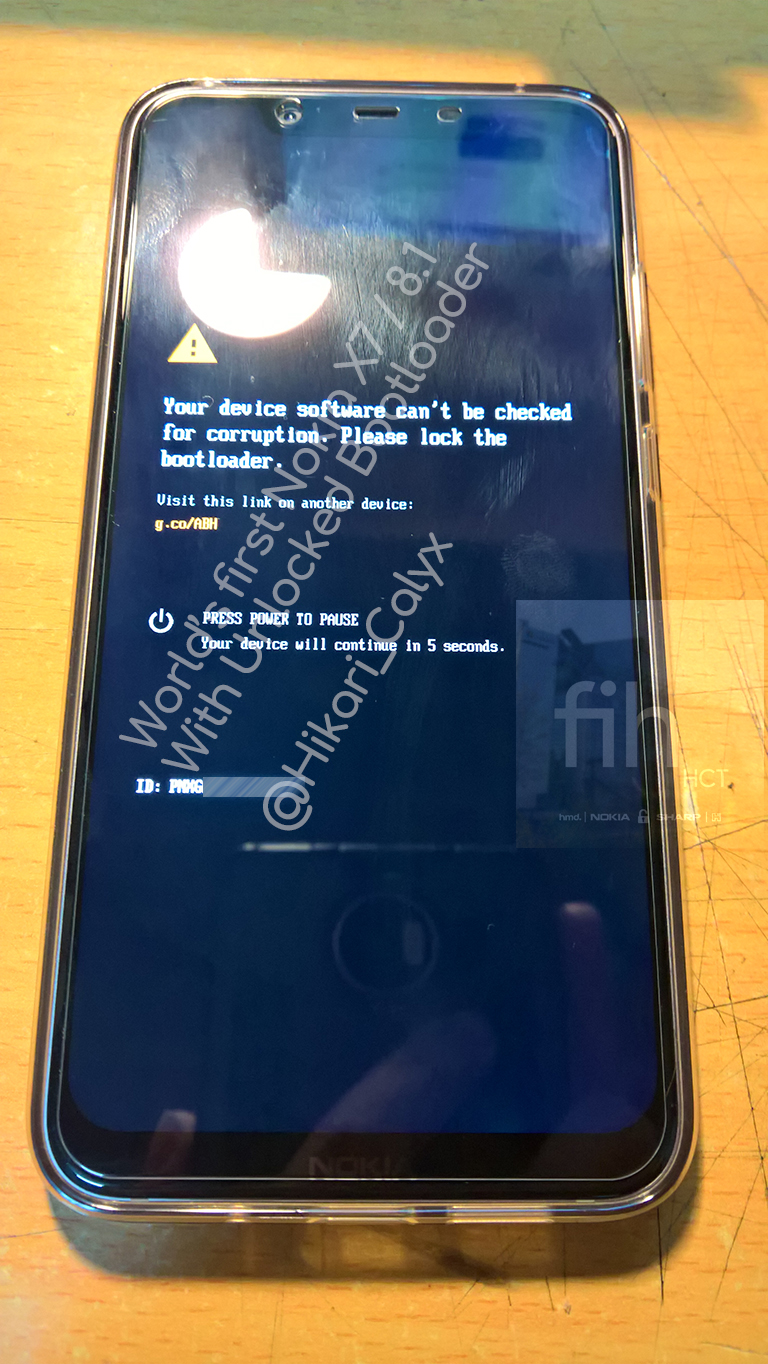 II. Widevine L1 DRM Key will be lost once unlocked.
If you're a loyal user of Netflix, HBO or Amazon Prime, please be careful!
After unlocked, the Widevine Level will drop to L3, that means you can't watch 1080P HD Copyright Protected Videos on your phone. This will not affect the VOD apps that don't require Widevine, like iQIYI in China.
Relock the bootloader will not revert the DRM key.
If you've used Sony Xperia series smartphone before, don't worry. It will not affect the camera and OTA updates.
III. Warranty may void once unlocked.
We can not guarantee service point / customer care will repair your bootloader unlocked phone that in warranty. Even if they agree, we can not guarantee they will relock the bootloader for you.
If you bought your phone from overseas, you needn't to care about this.
IV. Due to FIH's terrible coding, you still can't flash your phone casually even if the phone can be rooted.
We believe Nokia X7 was not designed for Custom ROM developers at the beginning. You have to break the Secure Boot Fuse before you can flash the phone casually.
If you're a custom ROM developer, or you want to become a custom ROM contributor of HMD Nokia Phones, you're recommended to buy NTool account for achieving these, or adapt custom ROM for common sdm63x/660 devices, like Nokia 6.1 Plus X6 and Nokia 7 Plus.
DON'T PERFORM FACTORY RESET ONCE ROOTED, OR YOU'LL CAUSE YOUR PHONE IN TROUBLE.
V. You can only use Magisk 19 or newer.
If you have older apps or Magisk modules that only compatible with Magisk 19, Nokia 8.1 / X7 / 9 PureView aren't recommended at the beginning. As for these outdated Root Management App like SuperSU, don't resurrect them.
We never tested Xposed Framework.
VI. I'll only accept 10 unlock requests of Nokia 8.1 / X7 / 9 PureView around the world.
In April 25th, I'll make the unlock service of Nokia 8.1 / X7 available first. Since the method is a bit complicated, I'll only process 10 devices every week.
Global Conversion service isn't counted to 10 devices per week limitation.
If you don't mind that, you're able to request bootloader unlock service.
What you can do before:
1. Do full backup. I can't assist you for data backup.
2. Download the stock firmware.
https://fih-firmware.hikaricalyx.com/hmd_en.html#pnx
3. Pretest.
Please watch this video:
https://www.youtube.com/watch?v=TD6owywo2D8
4. Pay and contact me.